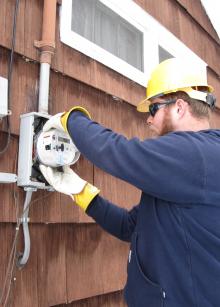 When requesting electric service to a new home or parcel please refer to the information, and steps that will need to be taken, listed below. These steps will be required in order to construct the electric service and energize your property.
When a member contacts DCEC to provide an estimate for the cost of providing electric service to a new service location the applicant is required to:
Complete application and agreement for electric service
Pay in advance a non-refundable application/site visit fee of $150.00
Upon the applicant completing the above requirements, a meeting at the site will be scheduled with the applicant and DCEC personnel to assess the site and gather the necessary information to allow the Cooperative to develop a plan for providing service and cost to the applicant.
 
Once the applicant/member notifies DCEC of their desire to have the Cooperative proceed with the construction to the new service location they will be required to:
Sign the Cooperative's standard right-of-way easement agreement ($55.00 recording fee)
Complete and sign a membership agreement
Pay all fees and charges (as noted herein)
Provide wiring inspection on service entrance – refer to specification for type of secondary service installation - meter base to be purchased at the Cooperative or at a third-party vendor
Pay for other related permit and acquisition costs related to project
If a return site visit is required, there will be an additional charge of $150.00. Upon completion of the above requirements, the DCEC Operations department shall schedule the construction of the new service.
 
DCEC will have the exclusive right to determine route and method of construction. DCEC will not schedule primary underground installations after October 31st. Underground trench excavation and/or conduits are provided by the member. Electric service lines and equipment installed by DCEC will remain the property of the Cooperative. In regards to these general construction requirements the applicant is required to:
Pay additional fees such as $55.00 easement recording fees
Pay additional costs if applicant requests and the Cooperative approves an alternate method or route of construction
Pay relocation costs if applicant requests relocation of existing facilities
Sign security light agreement, if applicable
Reapply if the project does not proceed within 24 months
Please review the Line Extension Policy for New Service by CLICKING HERE for additional information.

Please note that line extensions and transformer installations will require the member to be responsible for a 2-year minimum charge from the date service was made available.
     
In certain circumstances, DCEC may include incremental facilities in the project design that will benefit future projects. The costs for these added facilities will not be the responsibility of the applicant.
Construction Fee/Footage for line installation:
| | |
| --- | --- |
| Line Extension Fee Schedule |   |
| Application / Site Visit | $150 |
| Easement | $55 |
|   |   |
| Single Phase Overhead | $14 / ft |
| Multi Phase Overhead | $22/ ft |
| Tree Clearing, Rock Blasting, Extraordinary costs | Per Estimate |
|   |   |
| Single Phase Underground |   |
| Extension from DCEC pole | $20/ ft |
| Vault | $400 |
| Terminations | $1,000 |
| Conduit | Per Estimate |
| Trenching and Setting Vaults | Per Estimate |
|   |   |
| Multi Phase Underground |   |
| Extension from DCEC pole | $30/ ft |
| Vault | $400 |
| Terminations | $2,000 |
| Conduit | Per Estimate |
| Trenching and Setting Vaults | Per Estimate |
|   |   |
| Inspections for Member Performed Tasks |   |
| ROW Inspection for Extension | $500 |
| Trench Inspection for Primary Underground | $500 |