GenerLink™ emergency transfer switches will allow members to connect a 9500 watt or less portable generator to their home during power outages. These switches are five-inch devices that are installed by DCEC, behind your existing 200 amp meter base and come with a 20 foot cord. Since the GenerLink™ Power cord plugs directly into the generator, you don't need to have multiple extension cords running from the generator throughout your home to the appliances or devices you wish to power.  
When you connect a portable generator to GenerLink™ and start it up, it automatically disconnects your house from the electric utility grid preventing the possibility of back feed, which can damage equipment and harm DCEC line and right-of-way personnel. Each switch also has an internal warranty surge protection for household appliances.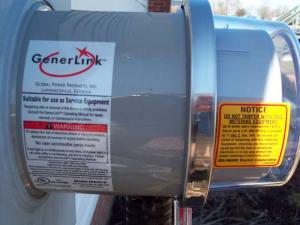 The member cost for the GenerLink™ switch and power cord is $860 plus a $100 installation charge. The GenerLink™ switches are now available to purchase at the Cooperative. For more information, please call the DCEC office at (607) 746-2341.
DCEC stocks GenerLink™ model #MA24-S and GenerLink™ Power Cable #L14-30 locking. For more information on GenerLink™ products, look here: GenerLink, Backup Generator | Global Power Products
Please note that not all generators are compatible with these devices. To find a compatible generator, look here: Auxiliary Power, Portable Generator | Global Power Products (generlink.com)